10 Refreshing Summer Drinks
Many people love summer and wait for it to come and enjoy it in the way they want to.
But, in a country like India, where the temperature goes beyond 40%, you must have to take care of yourself more than before.
During the summer there are lots of problems people face, as global warming is increasing and nobody is taking care of it, it seems these temperatures are now going more up soon.
During the summer, sweating is more and many people drink less water, which tends to dehydration indirectly.
Because of this sweating, people feel exhausted and want to rest more rather than go outside for work.
For feeling energetic even during the summer there are juices or drinks which you can drink and feel fresh. lots of people drink more water which is good but it only saves them from dehydration and does not energies them.
During the summer, everyone has experienced this that they fill exhausted, tired, and want to rest sometime which never ends. This is normal for everyone during the summer, as the sweating goes on it feels tired.
Many people, drinks cold water during the summer which gives them some relief for some time only, but it does not feel energetic for that you have to drink some summer drinks.
In India, where the temperature in summer goes beyond 45 degrees Celcius, keeping ourselves hydrated has indirectly become necessary and that's why India has the best summer drinks and summer drink idea.
In the article, we are going to see summer drinks in India, which are considered the best around the world with summer drink recipes, so that you can make them at home easily.
Top 10 Refreshing Summer Drinks
1. Chaas (Butter Milk)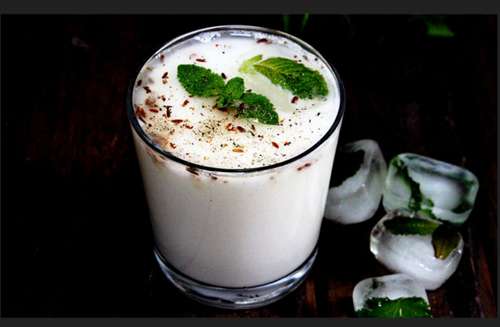 Chaas which is popularly known as buttermilk is a curd based summer drink that is without a doubt India's favourite drink.
Chaas is not only to drink during the summer but you can also consume it in any season, as it includes various spices in it like jeera it is work brilliant for digestion.
Buttermilk is mostly consumed during the summer season, the Chaas help to control body temperature and it is a healthy option, especially for people who are onto the diet.
As the Chaas include several prices, it helps for digestion and healthy also as it does not include sugar in it.
In many countries, buttermilk is made by swirling butter out of milk cream. The plain salted Chaas is the most popular among all but people also loved to add spices to them.
How to Make Chaas
Ingredients:
2 cups plain curd
2 green chillies, chopped (Optional)
A small bunch of coriander leaves, chopped (Optional)
1 tsp rock salt or black salt
Salt to taste
Method
Without adding water to the curd, add all the ingredients together.
Mix the materials well by using the blender or hand churner
Mix it so well that no lumps will be present at the time of the serve.
Serve it with a piece of ice if needed or plain whatever you want.
2. Aam Panna
An absolute tasty and delicious drink mostly popular in the Indian, state of Maharashtra during the summer season.
As the name suggests Aam, it is made with our favourite fruit known as the kind of fruit. Aam is the Hindi name for the "Mango".
As we discussed above the summer drinks need to also energise us, Aam Panna does the same, it not only refreshes you but also energises you.
You can add the blended cumin, jeera and mint leaves while making an Aam Panna with mango pulp, Which makes it a favourite drink among all including children.
How to Make Chaas
Ingredients:
500 gm green mangoes
1/2 cup sugar (You can add sugar as per taste)
Salt (As per taste)
Black rock salt (As per taste)
2 tsp roasted and powdered cumin seeds
2 tbsp finely chopped mint leaves
2 cups water
Method
Boil the mangoes well until they become soft from the inside.
Remove the skin and squeeze the pulp out of the mangoes, once they cool enough to handle.
Mix all the ingredients well and blend well, add 2 cups of water.
Serve it once mix well, you can serve it with ice cubes also.
3. Coconut Water
Sweet coconut chilled water can instantly refresh you. The Amazing taste with a soft sweetness makes it a perfect summer drink.
Coconut water is the clear liquid inside coconuts that contains only 94% water and very little fat in it. The thing here is that it should not be mixed with coconut milk.
Coconut water is a good source of vitamin B and potassium, it also contains electrolytes, various plant hormones, enzymes, and amino acids.
Coconut water contains low calories and carbs as compared to sports drinks. Coconut water is also used to prevent kidney stones.
It also helps to reduce oxidative stress and also decrease antioxidant content.
As coconut water contains magnesium, it may help to improve insulin sensitivity and may also help to decrease blood sugar levels in type 2 diabetes.
4. Nimbu Pani (Lemonade)
Nimbu Pani is the most common and popular drink in India, you can find Nimbu Pani everywhere in India during the summer and people also enjoy it very much.
The quick drink can be prepared in less than two minutes, prepared using the ingredients like mint leaves, lemons, sugar, salt and water.
To make it tastier you can also add spices in it like, cumin, coriander powder, black pepper, and many more.
Nimbu Pani not only protects you during the summer but also flushes out all the toxins and impurities that can build up in the body leaving you refreshed.
As the Nimbu Pani is a rich source of vitamin C it boosts your immunity and also helps to fight against heat stroke. It also has different benefits for the skin, as it helps keep wrinkles and acne at bay.
Nimbu Pani has several health benefits as it helps for reducing fat loss which tends to weight loss and it also freshens breath.
How to Make Nimbu Pani
Ingredients:
Sugar (As per taste)
5 tbsp lemon juice
Salt (As per taste)
1tbsp chaat masala (optional)
Ice Cubes (Optional)
1/2 cup Mint Leaves
Method
Take minty leaves in a bowl.
Add sugar to it and crush it well to make a paste.
Take water in a glass and add the paste and lemon juice to it.
Add Salt and Chaat Masala as per taste
Stir Well.
From the above method if you want you can avoid the steps of Mint leaves, and can only mix sugar, salt, chaat masala, and lemon juice well with water.
5. Jaljeera
Jaljeera is made using cumin seeds and water. For preparing Jaljeera cumin seeds or Jeera first need to roast well and then make the fine powder of it and mixed well in water.
Jaljeera is the best drink to take during the summer, it also helps to solve digestion problems. Many people drink it for weight loss purposes as its appetite and individual tends to intake fewer calories.
Traditionally in India Jal Jeera is served before the meal, as it builds an appetite and activates your taste buds. It also helps to improve the immunity power.
Jal Jeera have various health benefits, it helps to prevent anemia, as the cumin is an excellent source of iron it helps in preventing and treating anaemia.
How to Make Nimbu Pani
Ingredients:
100 Gram Tamarind pulp
3 tbsp Mint leaves
1/2 tsp ground cumin
3/4 tsp Ground cumin, roasted
50 gm Jaggery, grated
4 tsp Black salt
3-4 tbsp Lemon juice
A pinch of Kashmiri Mirch powder
1/2 tsp Garam masala
1/2 litre Water
Method:
For the Jal Jeera, add all the ingredients in a food processor and blend them together.
Refrigerate overnight. Then strain and freeze it.
Garnish the drink with some "Boondis" and serve.
6. Sattu Sharbat
Sattu Sharbat is the pure desi drink of India and comes from the Bihar state. It is really an awesome drink and helps to keep the temperature of the body low, especially during the summer season.
The sharbat is made with Sattu flour, sugar and water, that's all it needs. It just only refreshes you but also gives you energy.
It is a rich source of protein and tastes delicious, it also helps to fight against an issue of digestion, like flatulence, constipation, and acidity.
Sattu Sharbat contains salt, iron, and fibre which reduces the problem associated with the stomach and improves bowel movement.
Consuming a Sattu Sharbat every day during the summer keeps you healthy and protects you from several health conditions.
Sattu Sharbat has several health benefits, including skin benefits, it helps to keep blood sugar levels in control and also regulates blood pressure.
How to Make Sattu Sharbat
Ingredients:
Chana Sattu flour – One-fourth cup
Water – 4 cups
Lemon juice – 2 tbsp
Roasted Cumin powder – 1/2 tbsp
Mint leaves – 2 tbsp (chopped)
Black salt to taste
Green chilli – 1 (chopped)
Method:
Add all ingredients to a bowl and mix well.
Serve in glasses (served with Ice cubes if needed)
7. Sugarcane Juice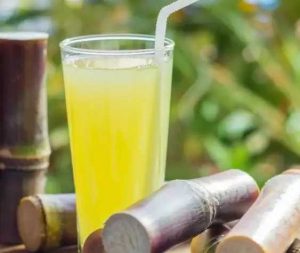 Sugarcane is another delicious natural juice, which tastes fantastic, only the condition here is that you have to choose the right sugarcane which has a sweet taste.
The sugarcane not only tastes good but it also energies you so to work during the summer, it has several health benefits like it building plasma and body fluids.
During the summer it is the most drinkable juice among all, from children to senior citizens all prefer Sugarcane juice during summer, as it helps to prevent dehydration and dullness.
Sugarcane juice contains antioxidants and vitamin C which help to strengthen the immune system more. It also helps in the digestive system.
8. Lassi
Lassi, is another popular drink all over India, whether it is summer or not Lassi is the most popular drink, especially among children if serve with ice cream and dry fruits.
The best part of Lassi is you can add many varieties as you want, including mint to dry fruits, ice creams, butter and many more. It is one of the flexible drinks one can make as they want it to be.
Lassi is commonly found in each home of Punjab a state of India, where everyone drinks lassi. Punjabi lassi is the one most popular among everyone.
Lassi is stirred out of yogurt or curd, it has several health benefits, and even helps in digestion. It is a healthy and natural remedy for stomach bloating.
Lassi improves the immune system and also improves bone health as it is a rich source of calcium, it is a good source of probiotics.
How to Make Lassi
Ingredients:
500gm yogurt or curd
ice cubes (optional)
Salt
Sugar
Water
Method:
Crush the ice cubes in blender
Add curd or yogurt, water, salt, sugar
Blend it for more than a minute
Serve it chilled
9. Barley Water
Barley water is an Indian ancient remedy good for health. It has several health benefits and is popular among most as a healthy drink during the summer.
Barley water has been made from the water that is cooked with barley. Sometimes these barley grains are strained out.
Sometimes it is simply mixed with the fruits juice or stirred with sweetener to make the drink which is similar to lemonade. In some cultures for health benefits barley water consumes.
It has several health benefits like helping to lower your cholesterol and clear artery blockages as it contains the tocols and antioxidants.
Barley water is a rich source of vitamins and essential nutrients which helps to keep the body fit and healthy. It flushes out all toxins from your body, drinking it in the morning helps more.
How to Make Barley Water
Ingredients:
1 or 1/2 cup pearl barley
Water (as per need)
Salt (as per need)
Honey (optional)
Lemon rind (optional)
Method:
Heat the water and pearl barley in a saucepan and bring it to a boil.
By adding a grain of salt in it cook for a minimum of 30 mins
Strain it into a glass, tip in a lemon rind, and drizzle with a little honey on top.
Once it cools down it is ready to serve
You can also put it in the freezer.
10. Watermelon Juice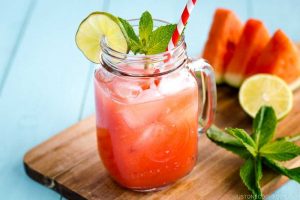 One of the best fruits in the summer is watermelon and what is better than its juice. It refreshes you during the summer and its hydrating properties help to keep your body hydrated and fresh during summer.
Watermelon contains a high water content, antioxidants, and amino acids which makes for a better workout. Juice is helpful to drink after you sweat.
Vitamin C and A found in the watermelon which are more important for skin health. It also helps for better digestion and helps to maintain blood pressure.
It does not only energise you but makes you hydrated when you sweat, helps to keep your heart healthy and it is the ideal juice for weight loss.