Top 8 Snacks to Make You Fit Forever
This list of healthy snacks can help you to lose weight and make your body fit. You can have these snacks in between your meal, it will help you to get all nutrients you need and this is a good idea that makes sure you have healthy food options for your hunger that will also help you to lose your weight. Having a healthy snack will energize you.
If you have healthy snacks during the day had more energy, reduce stress and it will improve your overall performance. Having a healthy snack will also stop you from overeating and that will also help to lose weight. Read on the article which makes you fit and clear your weight loss myths
1. Avocado
Avocado is a great source of vitamins and also packed with healthy fats, fiber, and other bits your body needs.
Avocado is a great source of nutrients including Folate, Magnesium, Potassium, and they're a good source of monounsaturated fat, which can help to reduce the risk of heart disease. it also reduces belly fat by suppressing appetite
2. Dry Fruits
Dry Fruits are rich in vitamins and proteins, also help to boost immunity and prevent lifestyle diseases like cholesterol and lung cancer. Although it is rich in sugar and calories and can cause health issues when eaten in large amounts. It also helps to lose weight and keep your skin well.
3. Paneer
Paneer is rich in healthy fats, proteins, and very low on carbs. Paneer is also an excellent help for weight loss and diabetics, you can cook them in a healthy manner and can add some veggies to your dish. Paneer is a blend of carbs, fat, and proteins. Eating paneer in a balanced way and at the right time will help you to be fit.
4. Yogurt
Yogurt is high in the protein, vitamins and calcium, which can help shielding for bones and teeth. it also help to prevent digestive issues.
Low fat yogurt is the useful source of protein and you can add it in weight loss diet as it also boost the immune system while frozen yogurt can negatively impact you health and even cause to weight gain.
5. Cucumber

Fresh Cucumber slices on wood background.
Cucumber is high in nutrients and low in calories, it also rich in the many important vitamins and minerals. It contains zero fat, low-calories making it an superb snack for people looking to lose weight.
6. Fruits
Fruits are one of the favorites and famous snacks. Most of the fruits are low in fat, calories. fruits are a great source of vitamins and minerals and are high in fiber. Eating fruits can reduce the person's risk of developing heart disease and also help in the fat loss
7 . Boiled Eggs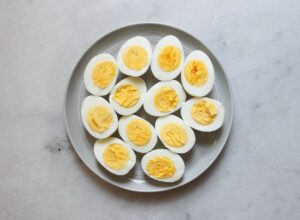 Boiled eggs are an great source of high quality protein and rich in B vitamins, zinc and calcium. Though is high in cholesterol, eggs don't appear to increase heart disease risk in most people. Eggs not only contain packed with protein, vitamins, and minerals but they also provide you energy you need to get through the day.
7 . Boiled Eggs
Another milk product excellent source of the calcium, fats and proteins, also it is high in vitamins A and B-12. as it also contains the nutrients. Eating cheese help you for the weight loss and prevent heart disease.