Vaishno Devi Yatra A Complete Tour Guide
Maa Vaishno Devi is one of the most powerful and popular holiest pilgrimages and the most renowned religious places in the whole of India, which is placed on the North side of India.
The holy dwelling of Maa Vaishno Devi shrine is nestled on the top of "Trikuta Hills" in Jammu and Kashmir, state of India.
Many travel agencies are active and offer a wide range of packages for this holy "Vaishno Devi Yatra" by which you can tackle this holy expedition yatra and pay tribute to Goddess Maa Vaishno Devi.
Take a divine holiday break that allows you to increase your inner spirits. You can start your holy tour and seek the blessings of "Mata Vaishno Devi".
To save your valuable time you can also take a "Vaishno Devi Yatra" by helicopter, to make the journey easy and save time. The devotees of Maa Vaishno Devi most generally used trekking to reach the sacred temple.
If you choose trekking to visit the holy temple then you have to do a nearby 14-kilometre track to reach above the temple. In this long-distance path, you will come across many thrilling halts.
Mythological Value of Mata Vaishno Devi
In reference to Hindu mythology, "Mata Vaishno Devi" is also popular with many names like Mata Rani, Trikuta, Ambe, and Vaishnavi, which is an expression of the Hindu Mother Goddess Devi.
Mata Vaishno Devi originated from the united energies of Goddess Maha Kali, Mahalakshmi, and Maha Saraswati.
Detail of Mata Vaishno Devi Yatra
The base of the holy "Vaishno Devi Yatra" is Katra from where it starts, to the Bhavan or the sacred temple to know about the stop while trekking. While trekking the first major station for you is the "Banganga".
Your second stop will be Charan Paduka. After crossing this, the next holy stop will be Adhkuwari. at Adhkuwari you can take a rest or can continue to your fourth and next halt, Himkoti and Sanjichhat will be your fifth halt. It is the tallest point for the pilgrims on their walk to the Holy Bhawan.
The next point you will reach is Bhairon Ghati and after crossing this spot, you will reach your primary destination which is Bhawan. Bhawan is where you will get darshan at Maa Vaishno Devi, this is a real on-foot journey from Katra to Bhawan.
During the whole trek, you will feel and experience the next-level feeling. You will enjoy the breathtaking scenery around.
Vaishno Devi Yatra Registration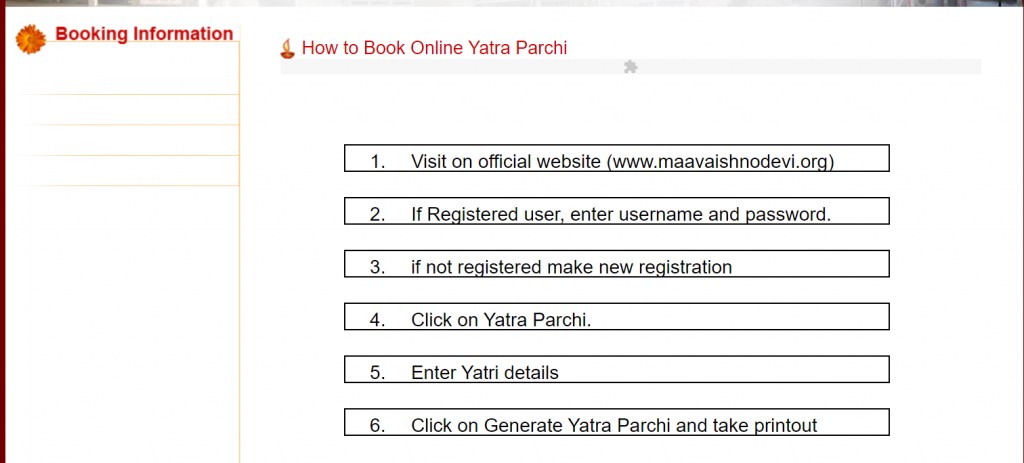 To visit or attend the Maa Vaishno Devi Yatra you must have to do registration. It is mandatory to register before taking or going for Maa Vaishno Devi Yatra.
You can do registration online or you can do it on Katra directly from Yatri Registration Council which is located near the Bus Stand Katra for which you have to stand in a long queue.
There is another Yatri Registration Council present near the bus stand. It is also known as a YRC-II, it is 1KM away from the main counter on Udhampur road.
Rather than searching for a booking house with a piece of luggage with you, it is easier and more convenient to have an online registration with you.
Upon registration, there is an Access Card is issued for every single Yatri. Once Yatri registered himself for a Yatra, the free insurance is insured for all Yatris automatically. The insurance is for any accidental casualty on the Vaishno Devi Yatra route.
The insurance is free and can be valid only in the case of accidental deaths. The amount of insurance is till about 3lakh for major and 1lakh for minors.
How to Book Online Yatra Parchi
To doing an online booking you, have to visit the website of Maa Vaishnodevi (www.maavaishnodevi.org).
Once you visit the website look for "Online Servies" and click on it. On the Online Services page, you have to first accept the terms and conditions given and then have to submit it.
Once you accept the terms and conditions, you can see a login form on the left side of the page. For booking, you have to register yourself first. If you have already registered you can log in using a username and password.
If you are visiting for the first time click on "New User? Sign Up". Which is just below the user login form and registered yourself by filling in the all required details in the form.
Once you registered yourself and log in successfully, then click on "Yatra Parchi" and entered the required details of the Yatri.
After submitting the details successfully, you can take the printout or download the form easily.
Must Know Before You Visit Vaishno Devi
Below are the few things noted for you, that we think you should be aware of before visiting the Maa Vaishno Devi Temple.
Distance betwee Katra to Bhawan is 13km. It will take 5 to 8 hours to climb and 3 to 6 hours to mount.
The base camp of Vaishno Devi Yatra is Katra. You can take a flight from Jammu to reach Katra and with this Bus, taxis, and trains are also available to reach Katra.
To reach Ardhkuwari which is the mid-point of the trek from Katra there are 2 routes. The old one is 5.5KM which has a Charan Paduka temple en route. The new route is 7.5KM which is better to come down as it is more vertical.
From Ardhkuwari you have to go to Vaishno Devi Bhawan also has 2 routes. One is 6.5Km and 5.5Km distance respectively. The first one is steep uphill and the second route is less steep.
You can take a Horse/Mule or Palkhi or Pitthoo to reach Bhawan from Katra.
If you choose to go through any of the mentioned above then you have to pay Rs. 1250 for Mule, Rs. 3150 for Palki, Rs. 540 for Pitthoo. All this price will be applicable for one side only.
The ropeway is also available and for that, you have to pay only Rs. 100 for both sides, and this will be available from Bhawan to Bhairon Nath temple.
If you choose a Helicopter, you have to take it from Katra to Sanjichhat which is available at Rs. 1730. Ponies are also available from Helipad to Bhavan which is around a 1.5 KM distance long from the helipad.
If you want to relax a little bit, you can take a massage anywhere on the entire route as it is available at the cost of only Rs. 50 for 15 minutes.
Massage chairs are available on the entire route. Cost around Rs. 50 for 15 minutes.
After every 300 to 400 mts, toilets are available.
"Shrine board Yatri Niwas", near Katra bus stop idol for a temporary stay of a few hours
While entering Ardhkuwari temple and main Bhawan the things like mobiles, wallets, cameras and belts are not allowed inside, better to leave them in a safe space.
One of the most important things to note here is that mobiles, Wallets, Cameras, and Belts are not allowed inside the Ardhkuwari temple and in the main Bhawan.
Free and paid basic housing is available at Katra, Ardhkuwari, Sanjichhat and Bhawan.
For the reservation, you have to be made the Enquiry at Reservation Counter at Niharika Complex placed near the Katra Bus Stand.
Important Do's and Don'ts During Vaishno Devi Yatra
Things to Do during Vaishno Devi Yatra
Obtain a Yatra Parchi (slip) free of cost from the Yatra Registration Counter before proceeding on the trek. No one is allowed to proceed beyond the Ban Ganga check post without it.
We requested Pilgrims to check the original rates of Dandi-Kandi, Horses / Mules before hiring some other. Also, confirm they should have valid registration cards available.
Avoid taking all unnecessary luggage or clothes or anything useless with you, you can leave it at Katra only and travel with only necessary. Things like food, water, and blankets are available on the route.
Cooperate with the security agencies for security checks. Beware of suspicious persons and unclaimed articles and report the same to the security personnel.
If you have a medical problem tried to avoid the tough routes and are advised to not use the stairs.
Once you arrived at the Sacred Bhawan, get the Group Number at the Yatra slip check post and get into the queue for Darshans.
Avoid crowding for getting a Darshan at Gate number 1, proceed for Darshan only if your group number is announced. Refresh up and wear nit and clean clothes before proceeding to the Darshan.
If you want to give Donations, the donation boxes are placed at various locations or you can donate from the computerized counters also.
You can take the Darshans at the Holy Cave once the Darshan at Bhairav Nath temple are done.
Important DON'T during Vaishno Devi Yatra
Video cameras and other electronic types of equipment are not allowed on the route.
Do not use vulgar language or any type of offensive talk or gestures as Many families come to take Darshan of Maa. Please do not treat it as a picnic spot or a vacation.
Abstain from smoking, liquor, chewing tobacco and betel leaves, spitting, spreading litter, playing cards and many more.
Avoid carrying too much cash, jewellery and valuables and don't trust strangers with belongings.
Don't write on the walls. Mutilating or damaging the property is a legally punishable offence with both a fine and imprisonment.
Avoid not dirt the place or area surrounding you in any manner and also avoid or stop the usage of plastic bags during a Yatra.
Chanting slogans or praises inside the cave is not allowed as it disturbs the other pilgrims.
Don't offer any cash or jewellery in front of the Holy Pindies. Instead, deposit the same in the donation/jewellery boxes.